Baltimore City, in collaboration with Johns Hopkins Center for a Livable Future (CLF), produced the 2015 Food Environment Map and Report to draw attention to food access patterns in Baltimore City's neighborhoods and to assist with policy development and implementation.
The Food Environment Report defines a food desert in Baltimore as a place where;
The distance to the supermarket/supermarket alternative is more than 1/4 mile
The median household income is at or below 185% of the Federal Poverty Level
Over 30% of households have no vehicle available
The average Healthy Food Availability Index score for all food stores is low
Based on Baltimore's food desert definition, the map shows where the need for improved access to healthy food is concentrated in terms of economic resources and store locations. The food environment map has been instrumental in developing BFPI's Food Desert Retail Strategy to address healthy food access challenges and barriers in Baltimore City.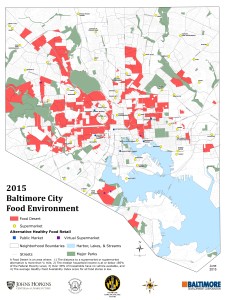 Maps and Reports
2015 Food Environment Map: Baltimore City
Mapping Baltimore City's Food Environment: 2015 Executive Summary
Mapping Baltimore City's Food Environment: 2015 Report
Mapping Baltimore City's Food Environment: 2015 Council District Maps