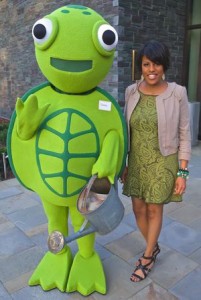 Hi! My name is Turtle. I am Baltimore's sustainability and resiliency champion.
I moved to Baltimore in 2014 and I was so impressed by the community, I joined efforts to help Baltimore become more sustainable and resilient.
I love "greening", spreading the word to people of all ages on how they can improve our city and also prepare for emergencies. You'll find me all over the city, picking up litter, recycling waste, planting trees, and riding my bike, among many other things!
I love to share my experiences. You can follow me on twitter at @sustainbmore or on Facebook! You can also follow #bmoreturtle