Growing Green Initiative Current Projects
Growing Green Design Competition and Enhanced Greening Sites
In September of 2014 Baltimore City, the U.S. Environmental Protection Agency, and the Chesapeake Bay Trust announced the winners from its collaborative Growing Green Design Competition: Vacant Lots Transformed. This collaborative competition was announced as part of the GGI launch and sought proposals from community groups and designers that outlined ways to improve vacant properties based on the Green Pattern Book.  Winning teams were awarded $300,000 to implement their winning ideas.
Learn more about the winning designs and teams here or click the interactive map below to see the progress and completion of the projects.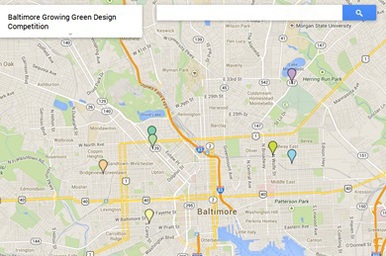 Several additional enhanced vacant lot greening projects were funded through the Chesapeake Bay Trust's 2015-2016 Outreach and Restoration Grants.  We are pleased to announce that Jane's House of Inspiration and Strength to Love II were awarded Growing Green Initiative funding.  Learn more about their projects here and stay tuned for their progress.
For 2016-2017, GGI has partnered again with the Chesapeake Bay Trust to provide funding for enhanced vacant lot greening projects as part of their Green Streets, Green Jobs, Green Towns Grant Program.  The Request For Proposals will be open for applicants to apply in early December 2016.
---
Growing Green Tracks
In East Baltimore, greening projects on vacant lots along the Amtrak rail corridor are now underway as part of Growing Green Tracks. Growing Green Tracks is a city-led collaborative that works to eliminate blight along Amtrak's Northeast Corridor through strategic demolition and reuse of vacant land for greening projects.
Baltimore's Growing Green Tracks initiative was awarded $300,000 in 2015 through the U.S. Conference of Mayors (USCM) and Wells Fargo & Company Community WINS grant program. This grant program recognizes local programs that promote long-term economic prosperity and improve the quality of life for residents.
Growing Green Tracks is also providing workforce development opportunities for Baltimore City residents through Civic Works' Community Lot Team. The Community Lot Team employs and trains individuals to transform vacant and abandoned lots into community gardens and green spaces.  Stay tuned for pictures and progress.
---
 Additional $500,000 to support the Growing Green Initiative
Baltimore City announced $500,000 in additional funding for the Growing Green Initiative in April of 2016.  The additional funding is being used to re-seed and fence lots, plant trees, create community managed open spaces, support the Lots Alive and Neighborhood Greening Grants programs, and the Care A Lot program in four targeted neighborhoods including Coldstream Homestead Montebello, Broadway East, Sandtown Winchester, Upton, Druid Heights, Penn North, and Park Heights.
Partners include Civic Works, the Parks & People Foundation, Baltimore Office of Promotion and the Arts, Baltimore City Parks and Recreation, Department of Transportation, Department of Housing and Community Development, and community members and leaders from the targeted neighborhoods.  Stay tuned for pictures and progress.
---
 Vacant Lot Turf Study
We have the opportunity after demolition to transform vacant lots into "Clean and Green" spaces by improving our current site preparation practices, planting grass and groundcovers that require less maintenance and build soils, and implementing maintenance practices that are cost effective and more sustainable.  GGI has partnered with Civic Works, the Baltimore Efficiency & Economy Foundation, and the Oliver neighborhood to test alternative methods of soil and site preparation, seed and groundcover mixes, and maintenance practices.
Study the effects of better soil preparation
There are two methods that we are testing that include different topsoil mixes, compost, depth of tilling, and tilling.
Test different grass species
The current grass mix is not targeted to urban conditions. We are testing Zoysiagrass and Hard Fescue – two grasses that do well with poor soil conditions and require less mowing. Additionally, we want to test the addition of clover as a means for improving the subsoil.
Align mowing and maintenance practices
While the grass species being tested require less mowing, they have particular mowing schedules and heights.
We believe that implementing alternative methods for site / soil preparation and low maintenance turf species will have the following benefits:
Reduced mowing requirements (thus saving money and reducing greenhouse gas emissions)
Reduced stormwater runoff
Reduced soil erosion
Reduced illegal dumping because the site is more clearly owned and managed
Reduced calls for maintenance and cleaning
Improved turf and soil quality
Improved appearance
The findings of this study will be used to assess and direct the City's demolition contracts and maintenance.
---
Care A Lot Program – Community Team Upkeep
Baltimore is a city of neighborhoods and in many areas community representatives are the most diligent at community clean-ups and vacant lot maintenance. The purpose of the Care a Lot program is to support community groups and organizations in the cleaning, maintaining, and beautifying of otherwise vacant small parcels in Baltimore City.
GGI provides NGOs, Churches or Faith Based Organizations, CDCs, or Neighborhood Associations with a stipend to maintain vacant lots in their neighborhoods.  Groups can apply and select up to 25 lots in their neighborhood that are currently grass vacant lots, and will be paid $20 per lot cleaned and cut ten times throughout the season.  Groups could be eligible for $5,000 total for the season.
The Care a Lot Program Application 2017 is now available!  Applications due Monday April 3rd.
---
Temporary Pop Up Art
GGI and the Baltimore Office of Promotion & The Arts are working together on a series of grant programs for temporary pop up art projects.
Hoop House public art project:
This program is designed to enhance the visual impact of existing hoop house structures, draw attention to affordable urban agriculture practices in Baltimore, and serve as a springboard for dialogue between community residents hosting hoop houses and the urban farmers who harvest them.
This program is designed to support the creation of temporary public art projects sited on vacant lots within the Baltimore City limits.  Project lifespans can range from one day to one year and can include, but are not limited to: site specific sculptures, artist-designed parklet furniture, fence treatments, and performing arts.  Projects that actively engage residents and community members in the design of the project are encouraged to apply.  Winning proposals will be eligible for grants ranging from $2,000 to $10,000.
Winners have been announced!  Check out our WYPR interview on Lots Alive.  Below are a few photos from the Magic Garden Portal Project (photos by Dave Friskey).
The Spring and Summer 2016 Lots Alive winners have been announced!