To receive email notifications about upcoming meetings and events please contact us.  Additional meetings and events will be added and announced as they are scheduled.
Upcoming Meetings & Events
There are currently no Green Network Plan public meetings scheduled.  Please check back or sign up for notifications of upcoming meetings to be notified of the next round of meetings when they are announced.
Past Meetings & Events
From Obstacles to Opportunities.
There are over 30,000 vacant properties in Baltimore. We're working with communities throughout the city to turn some of those vacant lots and buildings into assets for a brighter future.
What's the plan? You tell us.
We need you to come and share what's most important to you, what YOU want to see. Playgrounds, gardens, food markets, opportunities for small business. This process is powered by your imagination.
A Plan Powered by Your Ideas.
Share your ideas so we can take action together. What you tell us will directly impact how money is spent and what happens on the ground. Be a part of The Green Network Plan and help us connect it all together so our neighborhoods can flourish and thrive.
Green Network Plan Meeting – East
Wednesday, November 16
6:00 pm – 8:00 pm
American Brewery Building – 1701 North Gay Street
or
Green Network Plan Meeting – West
Wednesday, November 30
6:00 pm – 8:00 pm
Lillian Jones Recreation Center – 1310 North Stricker Street
For ADA accommodations at either meeting, contact 410-396-7526 at least two business days in advance of the meeting you plan to attend.
Please join the Department of Planning to help identify potential demolition or stabilization sites and learn more about Project C.O.R.E. and other initiatives to address vacant properties.
While this meeting will be focused on demoltion or stabilization of vacant buildings, there will also be a station at this event dedicated to the Green Network Plan, for those who were not able to attend the Public Meeting on June 15th.
Date: June 29th, 2016
Time: 6:00 PM – 8:00 PM
Location: Edmondson-Westside High School
501 N Athol Avenue, 21229
Green Network Public Meeting #1: Overview & Goals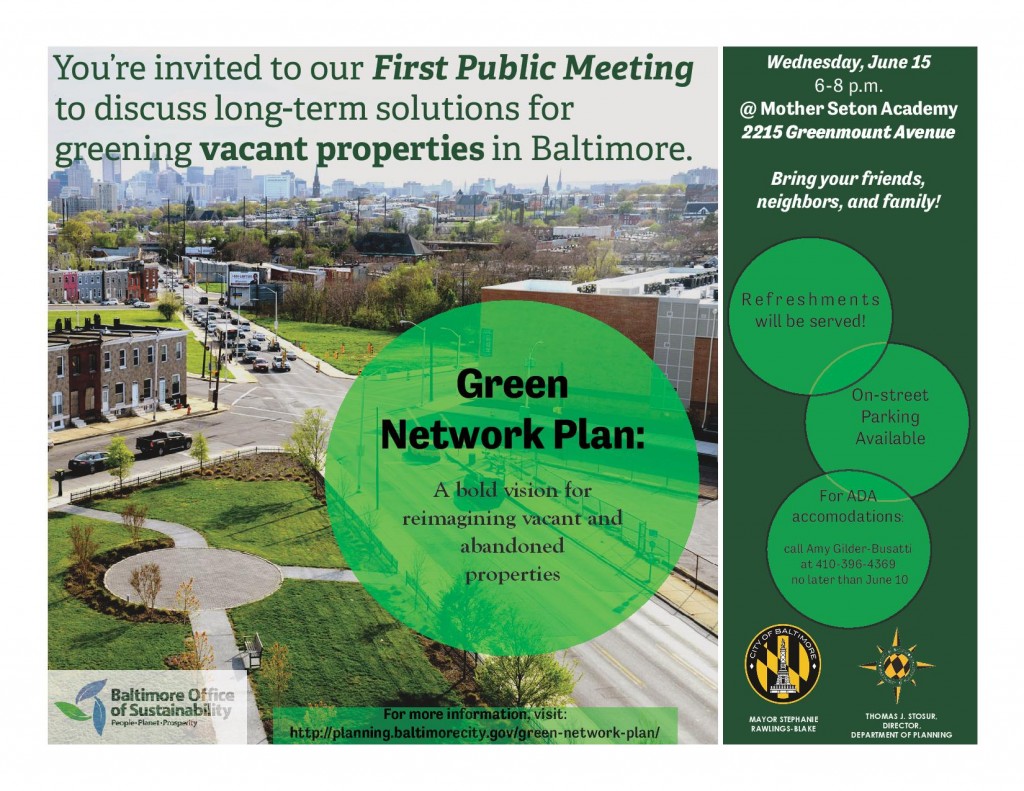 Green Network Public Meeting #1: Overview & Goals
Wednesday, June 15, 2016 from 6:00 pm to 8:00 pm
Mother Seton Academy
2215 Greenmount Avenue, Baltimore, MD 21218