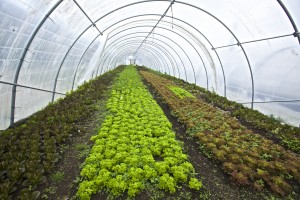 Read the City of Baltimore's Urban Agriculture Plan (2013)!
Homegrown Baltimore is the city government's urban agriculture program, with the goals of reducing vacant blight, increasing food access, and creating new opportunities for education and employment in Baltimore. For more information about how to farm in Baltimore City and for details on updated zoning codes and animal regulations, see this presentation and this overview.
In coordination with the Baltimore Office of Sustainability, BFPI supports urban agriculture in Baltimore City in the following ways:
Encouraging Urban Agriculture on Vacant land
Land Leasing Initiative
Prequalification applications are accepted any time to the Homegrown Baltimore Land Leasing Initiative. Farmers must have at least a year of experience. Those accepted are eligible for five-year leases for city-owned land for farming, at a cost of $100 per year. Two farm leases have been executed so far, one in Sandtown-Winchester and one in South Clifton Park, for a total of three acres. A third is underway. It is anticipated that as much as 20 more acres of city-owned land could be leased out for urban agriculture in the next 10 years.
Urban Agriculture Tax Credit
In 2014, the State of Maryland updated its Tax Code to allow for tax credits for urban agriculture. In 2015, the Baltimore City Council enacted new legislation to implement this tax credit here in Baltimore City. This credit gives farmers 90% off of their property taxes, as long as the parcel is used for urban agriculture for five years, produces a minimum threshold of value, and is not used for any other purpose that would normally subject it to property taxes. To apply, please fill out the Urban Agriculture tax credit application. Applications must be received by April 1st in order to be considered for the fiscal year starting July 1st.
Urban Agriculture Training Program
BFPI and BOS are currently in the process of developing an Urban Agriculture Training Program in collaboration with Future Harvest.
Flower Farming
With the launch of the Growing Green Initiative, the Flower Farming project began to explore the viability of flower farming in the city as a way to return more vacant lots into productive use and identify short and long term issues. A stakeholder work group was assembled to offer advice and direction on the project. The Flower Farming Report was developed through a series of interviews with farmers, industry experts and potential buyers, and online and literature research.
Baltimore In Bloom, How to Grow and Sell Cut Flowers on Vacant Land, developed in partnership with the Growing Green Initiative, is a brief introduction to growing and selling cut flowers in Baltimore City's community gardens and green spaces.
Promoting Urban Agriculture Policies and Regulations
BPFI worked with the BOS, Department of Planning and the Health Department to update the following city codes and policies:
Building Code
Section 105.2 Permits shall not be required for the following:
"10. Shade cloth OR PLASTIC FILM structures COMMONLY KNOWN AS "HOOPHOUSES," constructed for nursery or agricultural purposes, not including service systems. THE COVERING OF THE STRUCTURE MUST BE A MATERIAL THAT CONFORMS TO NATIONAL FIRE PROTECTION ASSOCIATION'S NFPA 701 STANDARDS."
Zoning Code
The Baltimore City Zoning Code is in the midst of a comprehensive update, and will include new use categories and standards for community gardens and urban farms. Find the full text here.
Excerpt from Community-Managed Open Space USE STANDARDS
"Permanent structures are prohibited. However, temporary greenhouses, including high tunnels/hoop-houses, cold-frames, and similar structures are permitted to extend the growing season. Accessory structures, such as sheds, gazebos and pergolas, are also permitted."
Excerpt from Urban Agriculture USE STANDARDS
"Greenhouses (permanent or temporary), high tunnels/hoop-houses, cold-frames, and similar structures used to extend the growing season are permitted. There is no limit on the number or square footage on these structures."
Animal Regulations
Updated Baltimore City animal husbandry regulations now allow for bees, chickens, rabbits, and goats. Read the full regulations.
Soil Safety
In 2014, BOS developed a Soil Safety Policy with support from the Abell Foundation, Johns Hopkins Center for a Livable Future, and other partners. The policy provides guidance to anyone wishing to grow food for human consumption in Baltimore, and also lays out requirements for those seeking a use permit for a new community garden or urban farm once Baltimore's new Zoning Code comes into effect.
Urban Agriculture Resources
Follow the links below for access to key resources related to Urban Agriculture, including ways to connect to the local Baltimore City urban agriculture community, land use policies to promote urban agriculture, and resources on sustainable farming, high tunnels and composting.
Farm Alliance of Baltimore City
Baltimore Urban Agriculture Network
Baltimore Farm Network Google Group
Seasonal High Tunnel Fact Sheet
Seeding the City: Land Use Policies to Promote Urban Agriculture
National Sustainable Agriculture Project