The Department of Planning and the Johns Hopkins Center for a Livable Future collaborate to examine the Baltimore food environment through research, analysis and mapping in order to inform the work of the City's Baltimore Food Policy Initiative (BFPI). BFPI is a collaboration between the Department of Planning, Office of Sustainability, Baltimore City Health Department and Baltimore Development Corporation that draws on the expertise of each to use food as a lens to examine and address the systems that perpetuate food environment disparities.
Baltimore City's Food Environment: 2018 Report
Food Environment Briefs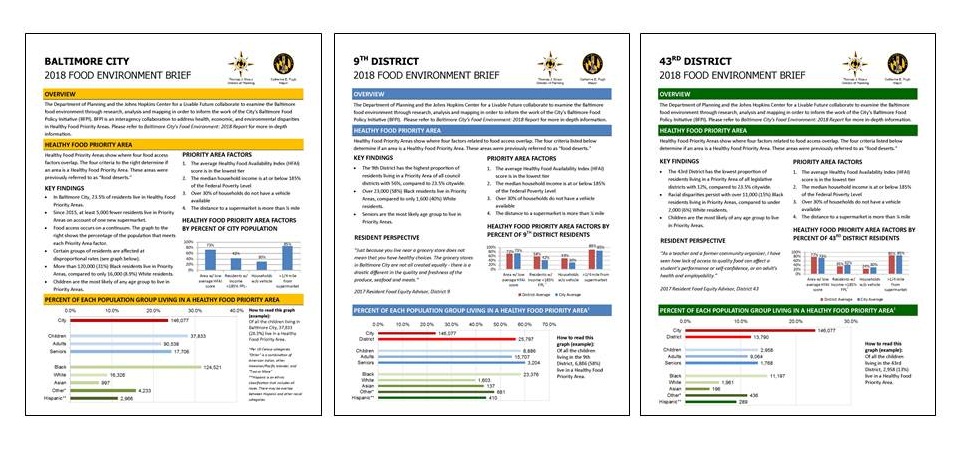 The city brief provides a snapshot of the impact of Healthy Food Priority Areas and an analysis of food retail, nutrition assistance, and urban agriculture from a citywide perspective. Another new development in the 2018 Food Environment Report is the creation of comprehensive briefings for each of the fourteen City Council Districts and six State Legislative Districts. This information will help policymakers understand what the food system looks like in their districts as well as citywide, and Resident Food Equity Advisors are available to support the efforts in their districts. The data gathered in the report and briefs along with the input of Resident Food Equity Advisors drive the city's comprehensive eight-point Healthy Food Environment Strategy.